CLNM Challenges
Challenges is one of the four areas of work for the Care Leavers National Movement. They challenge systems that don't offer best practice to care leavers, whether that be challenges to the local authorities or service providers. Challenges around service design and delivery within Local House Projects come through regional and national CLNM meetings and present themselves at 'Themes', these themes are shared at community of practice and Board of Trustee meetings and any updates tracked. This enables the feedback loop for young people to be open and transparent and services held accountable.
CLNM also challenge wider systems' through partnering with other charities and/or campaigns.
Please view CLNM's current wider system challenges below.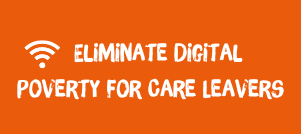 It is shocking to think that the some of the future generations of this country are living in the 21st century without access to the world of the internet. Take a look at the work CLNM and NHP have been doing to tackle digital poverty for care leavers.